West Palm Beach Station
203 South Tamarind Avenue, West Palm Beach, Florida 33401
Directions:
Parking: Free parking for the commuting public
Ticket Kiosk: The West Palm Beach Station is equipped with a Ticket Kiosk on Track 1. A Tri-Rail Customer Experience Specialist is here to assist you with your transportation needs, including ticket purchases and trip planning. Please note the Ticket Kiosk's operating hours. It is recommended to confirm Kiosk hours prior to arrival by calling 1-800-874-7245.
Weekdays: 12:30PM - 8:30PM
Weekends/Holidays: CLOSED
Ticket Vending Machines: Ticket vending machines are available during train operating hours located on both Track 1 and Track 2 platforms. TVMs accept cash, debit, and credit card.
---
Connections
Passengers can request a complimentary Uber or Metro Taxi ride to or from the West Palm Beach Station within the WPB1 highlighted zone.
WPB1 Zone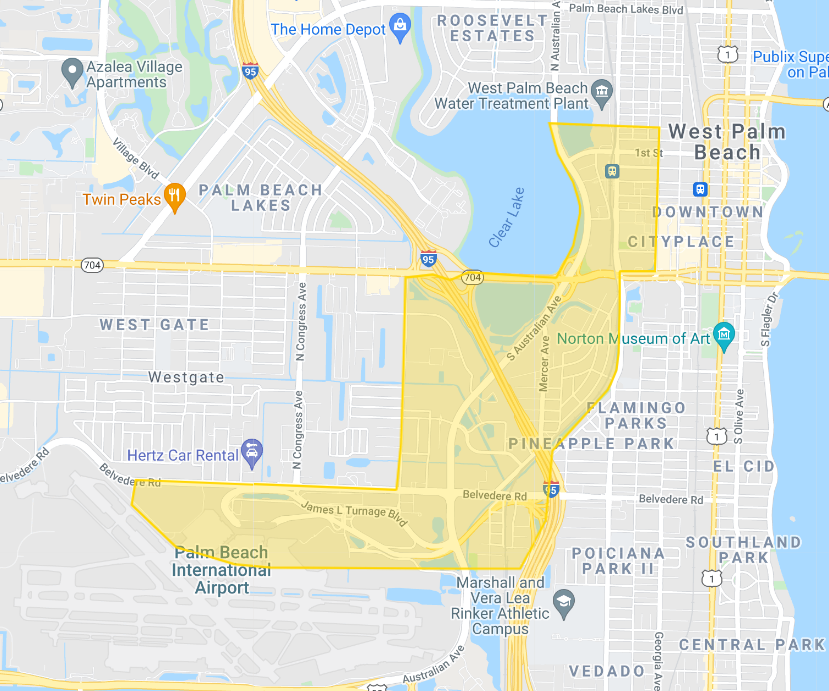 Uber
Passengers using Uber Mondays - Fridays must request a ride using the voucher found here https://vouchers.uber.com/c/r_EDCRB8uOPD.
For Saturday - Sunday trips, passengers must use this voucher https://r.uber.com/r_36FmCKYuyQ.
Metro Taxi
Passengers requesting a Metro Taxi ride, including wheelchair accessible vehicles must call (561) 444-9999 and specify a Tri-Rail connection to have the trip payment covered by SFRTA. It is recommended that rides be scheduled at least 30-minutes ahead of time. Rides may be pre-programmed for future days in advance.
Bus Routes: 1, 2, 20, 31, 40, 41, 43, 44, 60
Green Line
On-demand electric microtransit service
Electric microtransit service. Call 561-260-1838 for a ride.