Deerfield Beach Station
1300 West Hillsboro Boulevard, Deerfield Beach, Florida 33442
Directions:
Parking: Free parking for the commuting public
Ticket Vending Machines: Ticket vending machines are available during train operating hours located on both Track 1 and Track 2 platforms. TVMs accept cash, debit, and credit card.
---
Connections
Passengers can request a complimentary Uber or Yellow Cab Taxi ride to or from the Deerfield Beach Station within the DB1 highlighted zone.
DB1 Zone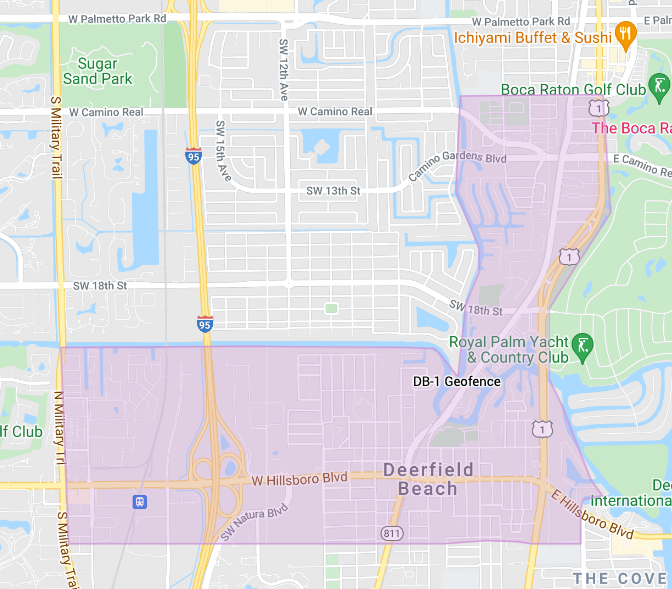 Passengers using Uber must request a ride using the voucher found here https://vouchers.uber.com/c/r_EDCRB8uOPD.
Passengers requesting a Yellow Cab, including wheelchair accessible vehicles must contact Yellow Cab Broward at (954) 777-7777 and specify a Tri-Rail connection to have the trip payment covered by SFRTA. It is recommended that rides be scheduled at least 30-minutes ahead of time. Rides may be pre-programmed for future days in advance. For trips to a Tri-Rail station, please remember to plan to arrive at the station 20-minutes prior to train departure.
South Florida Commuter Services
South Florida Commuter Services has launched a pilot study to help determine the long-term feasibility of using Transportation Network Companies (TNCs) to make the first and last mile connections of Tri-Rail trips. Commuters who take Tri-Rail to the Deerfield Beach Station are now able to take Uber to your final destination (and back) for free within the service area of DB2.
Rides are available using South Florida Commuter Services' Uber voucher Monday - Friday (5am – 10am and 2pm – 8pm)
For more information, and instructions on how to claim the Uber voucher, please visit www.tracks2uber.com or call 1-800-234-RIDE (7433).
Route 48*
*Passengers must access BCT Route 48 from Hillsboro Blvd.
Express I*
*Passengers must access the Deerfield Beach Express I from Hillsboro Blvd.